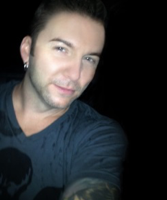 Pablo
I'm Pablo, a man with a wicked imagination and something to say. I landed my dream job at the 'evil rock station' in town and have been rockin' ever since! Bottom line, I'm just an Irish kid who wants it all (who doesn't?!) and is willing to work my ass off for it!
I love to travel, learn, watch films, get lost on my Harley, discover unique artists who inspire me, and drink lots of WINE (and the occasional rye whiskey.
The perfect ending to any day is when I get to relax with my red dog at my feet and drink in hand in my own little piece of paradise I call home. Cheers!