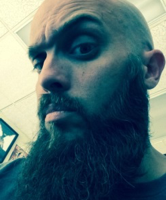 Joe DeTomaso
Joe D here, growing up I played sports and always loved music. As I got older, I stopped the sports and focused more on music. I taught myself to play bass and eventually guitar, which lead me to get a degree in music performance.
I've played in locals bands and even spent a couple of years touring with Joey Belladonna of Anthrax. He asked me to play bass in is solo band, Belladonna. That was one hell of an experience!
I'm a huge NFL fan. I also love heavy metal and I like to fish when I can find the time.