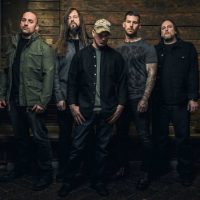 Credit: Dave JacksonAll That Remains has released a new track called "Louder," which will appear on the band's upcoming album Madness. You can listen to "Louder," and watch its accompanying lyric video, now via Metal Hammer.
"'Louder' is about not backing down or self censoring because people yell about what you think or believe," says frontman Phil Labonte. "There will always be people who want to shut you down or say you can't and that's when you have to stand firm."
Madness, the eighth studio effort from All That Remains, will be released April 28. They'll embark on a headlining tour in support of the album in May.
Copyright © 2017, ABC Radio. All rights reserved.