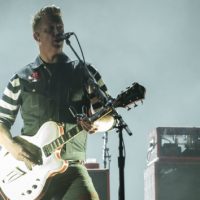 Raphael Dias/WireImageLast week, Queens of the Stone Age uploaded a mysterious post on their social media that read, "Coming Twenty Five." Speculation immediately began that the post had to do with the band's forthcoming new album.
Speaking with News.com.au, frontman Josh Homme did not comment on what exactly the post means, but he did reveal that Queens of the Stone Age will have a new single out in time for their Australian tour, which kicks off in July.
Homme also tells the Australian news site that the new album won't feature any guests. The last Queens effort, 2013's …Like Clockwork, featured contributions from Dave Grohl, Trent Reznor and Elton John, among others.
In addition to the Australia dates, Queens of the Stone Age will be playing Canada's Montebello Rockfest in June, and the Outside Lands festival in San Francisco in August. In the meantime, Homme is recovering from recent wrist surgery.
"I had a problem with my tendon," he says. "It was very difficult for me to flip the bird for a while."
Copyright © 2017, ABC Radio. All rights reserved.