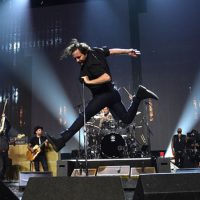 Eddie Vedder and Pearl Jam perform at the Rock and Roll Hall of Fame induction ceremony; Kevin Mazur/WireImage for Rock and Roll Hall of FameNo, Steve Perry didn't sing with Journey. But Friday night at the Barclays Center in Brooklyn, New York, there was a whole lot of music at this year's Rock and Roll Hall of Fame Induction Ceremony, now in its 32nd year. Here's how it went down:
Pearl Jam
The crowd at the Barclays Center was pretty much there to see one band: Pearl Jam. They started chanting "Eddie, Eddie" during the opening remarks. David Letterman, filling in for an ailing Neil Young, did a brilliant job inducting the group, which appeared on his shows 10 times over the years. In a lengthy, hilarious and touching speech, Letterman praised the group as "a true living cultural organism…they would recognize injustice and they would stand up for it."
He also shared a personal story about how Eddie Vedder gave his young son Harry a small guitar and wrote him a letter saying that he'd buy him a bigger one if he learned just one song. Letterman said that in his opinion, actions like that are the reason that the band's in the Hall of Fame.
At the podium, Eddie Vedder took the opportunity to address climate change, but also gave heartfelt thanks to their fan community, as every band member did. The band then played "Alive" — with Dave Krusen on drums for the first time in 25 years — as well as "Given to Fly" and "Better Man."
Vedder made a special point of thanking Michael J. Fox, who was in the audience, for writing in his book about how much "Given to Fly" inspired him, and said it was an honor to play it for the actor Friday night. The night ended with Pearl Jam and all the inductees coming together for a rendition of Neil Young's "Rockin' in the Free World."
Journey
All anyone wanted to know going into the ceremony on Friday was whether former singer Steve Perry would show up, and if so, would he sing? Well, Perry did show up, joining his band mates on stage to accept the honor, presented to them by lifelong fan Pat Monahan of Train, who said it was "about damn time" the group was inducted.
Perry warmly embraced his band mates, all of whom thanked their loyal fans for standing by them. "We would not be here had it not been for you and your tireless love and consistent devotion. You never have stopped," said Perry. "I've been gone a long time, I understand that, but I want you to know that you've never not been in my heart…I love each and every one of you."
With current lead singer Arnel Pineda — who met Perry for the first time backstage on Friday night — Journey then performed "Separate Ways," "Lights" and, of course, "Don't Stop Believin'." The band was joined by former keyboardist Gregg Rolie and former drummer Aynsley Dunbar for "Lights."
Yes
The British prog-rock band was inducted by Geddy Lee and Alex Lifeson of Rush. Lifeson's speech was a takeoff on the "Choose Life" speech from the beginning of the movie Trainspotting. "Choose 'Roundabout,'" he said, "Choose the glorious guitar work in 'Owner of a Lonely Heart.' Choose the Rock and Roll Hall of Fame. And definitely choose Yes." Lee said that being able to induct the band was "righting a terrible wrong," as they'd been eligible for years.
"Truly, this for the Yes fans everywhere," said former lead singer Jon Anderson. "I went to the Hall of Fame about four years ago…and all my heroes were there, every one of them…and we're gonna join them! I can't believe it! It's truly amazing."
Keyboardist Rick Wakeman had the audience cracking up with his speech, which included a number of off-color jokes about masturbation, prostate exams, strip clubs, and the boredom of marital sex.
Geddy Lee then filled in for late Yes bass player Chris Squire as the band performed "Roundabout" and "Owner of a Lonely Heart." Wakeman wore his signature cape, and some band members walked through the audience at one point while performing.
Electric Light Orchestra
The British band opened the ceremony with their hit version of "Roll Over Beethoven," in tribute to the late Chuck Berry. Dhani Harrison, son of the late George Harrison, inducted ELO, noting that they were the first band he saw in concert when he was seven, and he was blown away by their otherworldliness. He continued the "ELO are aliens" theme throughout the speech. Noting that when he saw them in concert right after the November election, he said, "Trust me when I say everyone in L.A. was staring at the spaceship thinking, 'Take me with you!'"
At the podium, ELO frontman Jeff Lynne, who's worked with everyone from Harrison to Ringo Starr, Tom Petty, Bob Dylan and Roy Orbison, said, "It's such a pleasure to get one of these [trophies] 'cause I've watched hundreds of people gettin' 'em all the time…it's like me dad said: "Everything comes to him what waits.'"
The band then performed "Evil Woman" and "Mr. Blue Sky."
And the Rest
Jackson Browne inducted Joan Baez, who joked that she knew that many young people would have no idea who she was. "My own granddaughter had no idea who I was," Baez said to laughter. "Until I took her backstage at a Taylor Swift concert." In 2015, Swift invited Baez onstage during her concert in San Francisco.
On a serious note, the folk music legend and activist turned President Trump's words back on him with a call to action. "Let us together repeal and replace brutality and make compassion a priority," she said. "Together, let us build a bridge — a great bridge, a beautiful bridge — to once again welcome the tired and the poor."
Baez performed "Swing Low, Sweet Chariot" and was joined by the Indigo Girls and Mary Chapin Carpenter for "The Night they Drove Old Dixie Down" and "Deportee (Plane Wreck at Los Gatos)."
Songwriter, producer and Chic leader Nile Rodgers was given a special award of "artistic merit" by Pharrell Williams. Onstage, Rodgers joked that he'd worked with nearly every artist who's in the Hall of Fame — including Madonna, David Bowie and Mick Jagger.
Snoop Dogg inducted his friend, the late rapper Tupac Shakur, and accepted the award on his behalf, saying, "I know you're gonna live forever, 'cause legends always do. They can't take this away from you, homie…I love you Tupac. Welcome to the Rock and Roll Hall of Fame. Thug life!" Snoop, Alicia Keys and rappers Treach, T.I. and YG performed a medley of Pac's songs.
Friday night's ceremony also included a Prince tribute by Lenny Kravitz, who performed "When Doves Cry" and "The Cross."
The Rock and Roll Hall of Fame Induction Ceremony will air on HBO April 29.
Copyright © 2017, ABC Radio. All rights reserved.