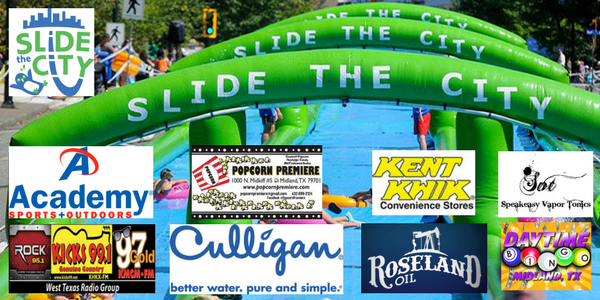 Don't miss Slide the City Saturday, August 19 in Odessa! This will be the final Hoorah of the summer before the kids head back to school!
Slide The City is a family friendly slip-and-slide water party event. There will be live DJs, food, drinks, water, and of course the biggest slip and slide ever to hit asphalt. (Don't worry, we've got it padded).
Make sure to bring your water buckets, floaties, and water guns (non-realistic of course), to squirt, spray, splash, and get all attending soaked.
Like most larger than life rides, all sliders must be at least 5 years old and over 46 inches tall. Tubes are for one slider only, and lap riding is not allowed. If your child meets the age and height requirements, ensure they are capable of sliding on their own tube! All minors must have a waiver signed by a parent or guardian.
Slide The City will be in Odessa for ONE DAY ONLY – Saturday, August 19 from 10am to 6pm. Wristbands are required and can be purchased in advanced. Get 'em early while prices are at their lowest! There are 3 tiers of passes available.
Sponsorships are available. Fore more details email Shalayna@brazosradio.com.
Get ready for a full day of family fun before school starts back. Get your tickets HERE. Get a preview of Slide The City in the video below: